Fall 2022 –  The 7 Deadly Sins
For Adult Faith Formation this fall, All Saints Parish will be offering a 7-session video series entitled "Seven Deadly Sins, Seven Lively Virtues." This series is by Bishop Robert Barron (Bishop of Winona-Rochester, MN).
Join Bishop Robert Barron for this presentation of the seven deadly sins, those great spiritual blocks that inhibit our flourishing in relationship with God and one another. Based on Dante's writings, the seven deadly sins correspond to the seven stories of Dante's Mt. Purgatory:
Pride
Envy
Anger
Sloth
Gluttony
Avarice
Lust
The seven deadly sins are all presented as patterns of dysfunction within us that lead to unhappiness. Bishop Barron shows us how to counteract these seven sinful patterns through a conscious process of opposition, known as the "seven lively virtues." These offer antidotes to each sin and help set us on the right path to healing and happiness.
Our plan at All Saints is to show these episodes in the Activities Center this fall. Deacon Brian Majewski and Fr. Lee will facilitate these sessions. This series is appropriate for adults.
Registration is necessary for all participants so that we may pre-order the materials which are used during the sessions. If a spouse attends with you, then only one registration form and fee needs to be submitted.
Registrations are due no later than 4:00 PM on Friday, August 26.
Registrations received on or before August 26 will have a reduced cost of $20.00, as we pre-order materials.
Registrations received after August 26 will have a cost of $25.00.
We will be meeting at 7:00 PM in the Parish Activities Center. The tentative Session Guide for Seven Deadly Sins, Seven Lively Virtues is:
Tuesday, September 13 – Session 1: Pride & Humility
Tuesday, September 20 – Session 2: Envy & Admiration
Tuesday, September 27 – Session 3: Anger & Forgiveness
Tuesday, October 4 – Session 4:  Sloth & Zeal
Tuesday, October 11 – Session 5: Avarice & Generosity
Monday, Oct. 17 – Session 6: Gluttony & Asceticism
Tuesday, Oct. 25 –  Session 7: Lust & Chastity
Please note: Dates are subject to change.
Please complete and submit the Fall Adult Education Registration Form with payment.
We look forward to your participation in Seven Deadly Sins, Seven Lively Virtues!
---
Bible Study
Bible Study facilitated by Deacon Brian Majewski meets every Thursday morning from 10:00–11:00 AM in the church library. All are welcome!
Formed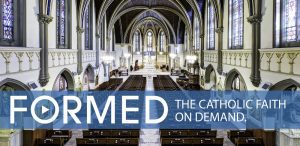 Formed.org is a vibrant Adult Faith Formation resource. New programs, movies, audio talks, and e-books are continuously being added, so please visit Formed.org and see what's new. There are now over 40 movies on the site, perfect for family movie night. Don't miss these fabulous, Catholic resources that are being provided for you by our parish subscription. You can view these over streaming internet at http://www.formed.org. Our parish access code is 16e125. Use this to set up your login credentials.
Legion of Mary
Legion of Mary meets on Tuesdays from 7:00 – 8:30 PM in the St. Joseph Room of the Activities Center. For more information, please contact allstslom@gmail.com.