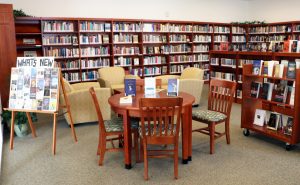 Discover the treasure that is the All Saints Parish Library.

Located just inside the church, on the side nearest the school, the library collection of over 5,000 books, DVDs and CDs offers an opportunity for parents and children to learn more about the Catholic faith, scripture, the saints, and more.
In addition to a wide selection of children's books and children's DVDs, the library has an extensive children's collection of books about the saints. This is an excellent resource for students preparing for the Sacrament of Confirmation. The library is a free resource for parishioners and non-parishioners and is available to all eighth grade students.
Hours of Operation
The Parish Library is open on the following days/times:
Wednesday evening 5:00-8:00 PM
Saturday morning 8:30-10:00 AM
Saturday evening after the 5:30 PM Mass
Sunday after the 7:30 AM, 9:30 AM, 11:30 AM, 1:30 PM, and 5:30 PM Masses.
The library continues to offer a concierge service and appointments to visit the library. Information: (library@allsaintsva.org or 571-516-3168).
Please return all library materials to the book return.
Come and share this beautiful resource with your family!